One of the most important tools in quilting is a rotary cutter.  I remember how I used to draw lines on fabric, then cut out my pieces with scissors.
I just cringe at even the thought of that now.  So where do you start when buying your first rotary cutter?
Well there are many styles of cutters available, all with different size blades, different shaped handles and a variety of protective sheaths.
Generally larger blades are used to cut through thicker fabric such as flannelette, or a number layers of fabric at one time.  Although the more layers of fabric you cut through the less accurate you can become.  So it is best when beginning to just start with a few layers to gain confidence.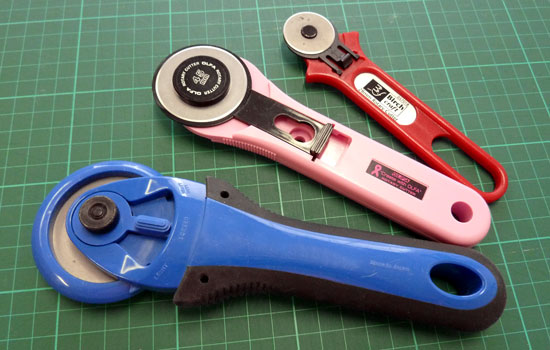 Blade Sizes
Rotary cutters come in a number of different sizes which include 18mm, 28mm, 45mm and 60mm in diameter.  Smaller blades are good for cutting around curves, small templates, and finer work but you will find generally the larger blades will be more useful.
The 45mm is the most commonly used and a good choice for all general fabric cutting needs. You will find this size is the one you reach for the most.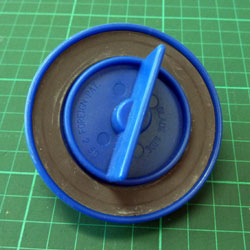 When you buy a rotary cutter it will normally include one blade and sometimes a spare.  It can be quite costly buying new blades every time they get blunt.
What is so great about these blades is that they can be sharpened!
The sharpeners are available in the various sizes of blades but will only fit one size blade per sharpener.
A blade can be sharpened six or more times before it needs to be replaced.
The down side is if you have more that one size blade you will need to buy a sharpener for each size.   Something to think about when buying different size cutters.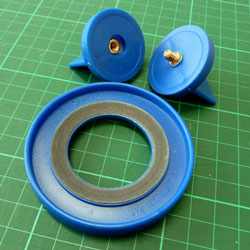 If however your blade has a nick out of it, perhaps from dropping it or cutting into your ruler, you will probably not be able to sharpen it satisfactorily and it will need to be replaced.
Make sure you buy the right blade for your cutter as the hole shape in the centre of the blade varies according to the brand of cutter.  For instance, "Kai" cutters have a round mounting hole with two squares cut out of it on opposite sides, while Olfa blades have a triangular shaped mounting hole.
Rotary Cutter Handles
Rotary cutter handles come in a variety of styles from your standard straight handle, to curved to fit the shape of your hand.

Plain colors to bright and colorful;  special edition printed handles are also available.  Each manufacturer has their own ideas on what makes a cutter the most ergonomically correct.
Most rotary cutters have some form of safety latch that moves a guard up and down, back and forth to expose the blade and to cover it up.  This also locks the guard into place when the blade is not in use. Latches can work differently depending on the manufacturer and can be tricky to manage if you have less movement in your hand.
If you are not sure which might best suit you, feel free to visit you local fabric or patchwork shop and try out several in person to make sure you get the best fit.
If you are left handed, you might like to check that the rotary cutter you purchase is suitable for using in the left hand.
Maintenance of your Rotary Cutter
You should replace your blade when it no longer makes a clean cut through your fabric.  This is often caused by a chip or a nick in your blade and can cause the cutter to miss cutting threads in your fabric.
Blades are usually held in with one screw and can be easily changed.  When putting your blade back on your cutter make sure that you put the pieces back together in the right order, and that the screw is tight but not so tight that the blade doesn't move.
Sometimes your cutter can sound a bit squeaky.  Just like any tool it does need to be cared for and maintained.
Remove any dust, and then a little bit of machine oil at the base of the screw and blade can make your cutter like new again.
Make sure the first few fabric cuts after oiling your blade are on scrap fabric just to make sure no oil residue comes off on your good fabric.
Summing up…
No mater what rotary cutter you choose it is likely you will end up with more than one.  So start with a basic cutter such as a 45mm and add to your collection as you find out what works best for you.
I use the OLFA brand of cutters and blades.  This is probably the most well known manufacturer.
But whichever sort you choose make sure you use it safely as they are very sharp.
Always make sure to put the safety guard back when you are finished making EVERY cut.  You never know when you could knock it off the table accidentally.
Using a Rotary cutter is a skill that if you master can save you so much time and effort, not just in the cutting but in your accuracy as well.