I started designing this quilt about 8 years ago. It all started with one piece of fabric I bought at Gail's Patchwork Emporium in Ballarat. I love all things vintage and Jane Austen. I also have a fondness for pink and black together. So out of this one piece of fabric I started a journey of designing, fabric collecting and stitching.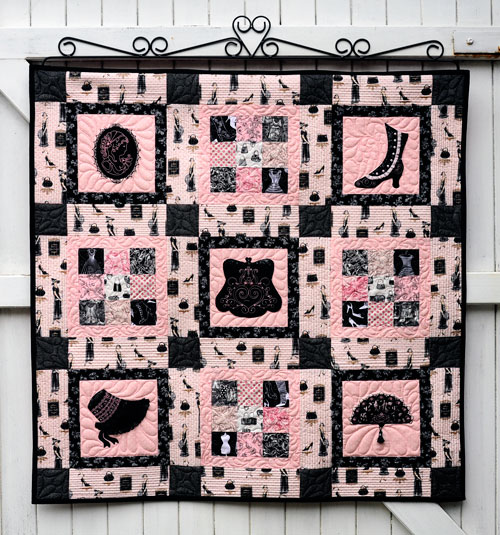 The layout was pretty simple and didn't really change from the beginning. I wanted this quilt to be about the fabric and the appliqués. The first block I designed was the Cameo and that is really how the blocks got their look.
I really love the idea of appliqué blocks of simple black silhouettes with pink accents on them, just like the cameo with a light shell/stone image on front and a dark background. I wanted it to be ornate and pretty so I accentuated each block with beads, lace or buttons.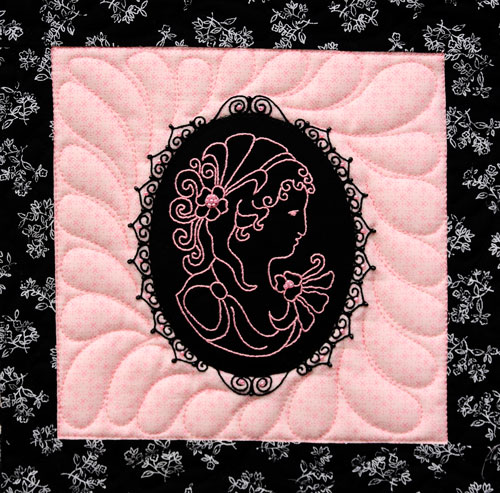 Cameo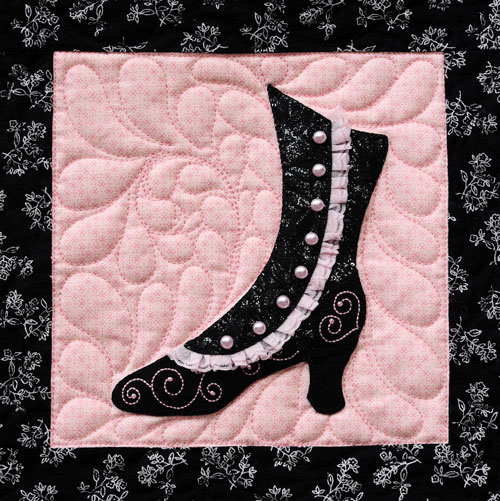 Vintage Boot
Victorian Purse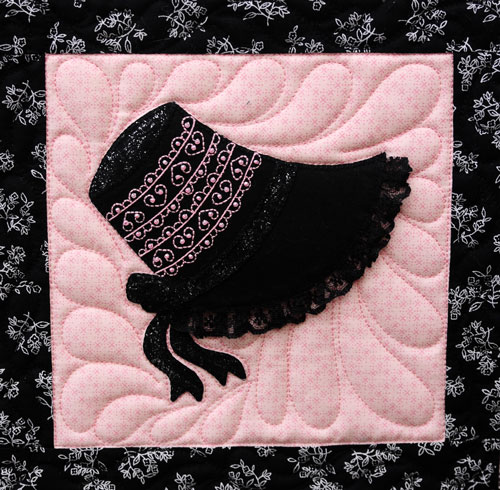 Victorian Bonnet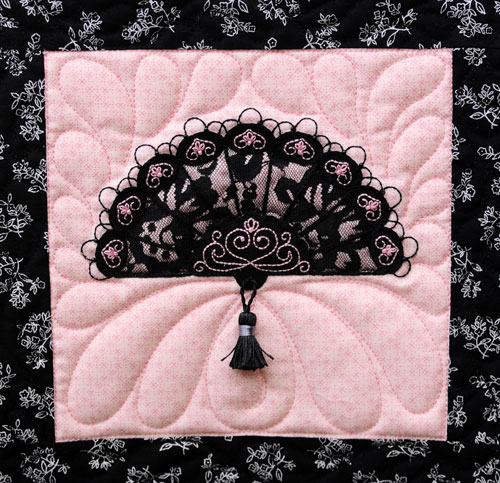 Lace Fan
It took me a while to create each block as I researched ideas and drew lots of sketches. When I was finally happy with a sketch I would then draw it up on the computer and play with it some more.
I did one block at a time, finishing one and looking for inspiration for the next… which sometimes was months later. When I finally finished all the blocks it was time to put it all together. I had collected the hanger right back in the beginning so new what size it had to be, so I couldn't add anything else to it. So after a little advice from my Dad… yes ladies, Dads and Husbands sometimes have the best ideas and advice, it all came together.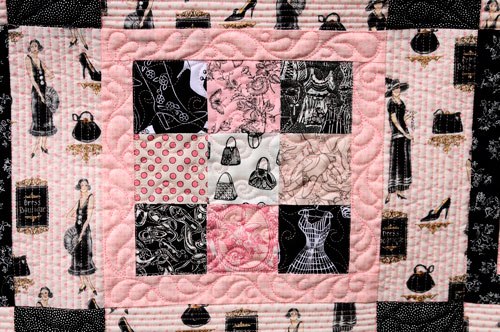 9 Patch Block in between appliqués (it was the pink shoe fabric in the middle on the right which started it all).
I had the wonderful Anita from Hillside Quilting quilt it for me. It has been finished for a while now and my plan was to write the pattern as a 'Block of the Month'. But it was such a long journey from beginning to end that I really just wanted to enjoy it for a while before I attempted to write the pattern. Then we moved on to Macarons and Hedgehogs and I really wasn't sure if I should write the pattern or just enjoy it as a very special project.
So what do you think? Would you like me to write the pattern?
Leave a comment and let me know what you think.
Happy Quilting