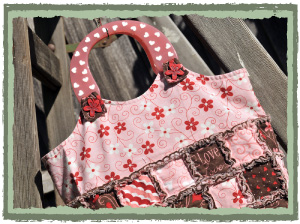 I first created the pattern for this bag a couple of years ago.
I made one for myself, one for Shez, and then taught a group of ladies at my craft group how to make them.
My bag has since become faded with use as it is one of the most practical bags I have ever made.
It's a super size for carrying around all those bits and pieces we absolutely need to have with us, big enough to carry a bit of shopping, or a little bit of stitching for just in case we have a few minutes to spare, but not too big as to be cumbersome.
When I saw these really cute handles from Lecien and the gorgeous Lamour fabric range from Moda, I knew it was time to replace my old faded bag.  There are so many lovely bag handles available now, and I just couldn't resist these very girly ones with little hearts on them.
This is an incredibly easy bag to make, even for a beginner.  Since I have enjoyed using mine so much I decided to share it with you as our June free downloadable pattern of the month, but only for June!
Happy Quilting
Maree xo