Throughout your quilting life you find new products that you love that you just can't live without. They become a staple and necessity when sewing and quilting and often you forget that not everybody knows about them. So I thought it would be good to share my 5 favourite sewing and quilting aids that I just can't live without.

Best Press is a brilliant product for getting a really crisp flat look to your fabric. It is a gentle spray starch that allows you to get rid of that annoying centre fold line that most fabrics have. It also helps flatten seams that can be bulky and can smooth out any stitchery that has slight ripples from heavy embroidered areas.
It comes in a number of different scents from lavender to linen and Citrus, but I like to use the 'Scent Free' spray as the others are slightly coloured.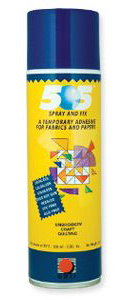 I had never really been a fan of basting sprays, but this one I really love. I never really could be sure that a basting spray could hold a quilt together as well as thread basting. But it does work and it works well. The nozzle never seems to clog up like most other sprays and it also has enough stick that you can peal apart your pieces of fabric and re-position them and the spray will still hold.
I still haven't used it on a large quilt that requires a lot of quilting but on smaller quilts it works well. I have also used it on runners, stitcheries and bags where a small amount of quilting is needed and it's just so much quicker to use the basting spray. Just make sure you spray it where the over-spray won't get on anything important.
3. Pilot 'Frixion' erasable pen: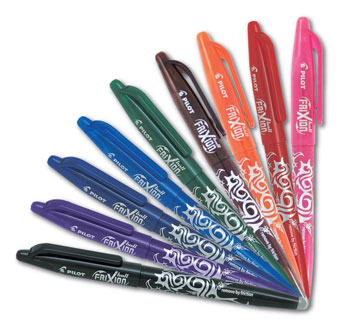 These pens are amazing!! Since I found out about them I have used them for nearly everything. They aren't officially quilting pens but the way they work they might as well be. The pens use a unique thermo-sensitive ink that reacts to temperature changes. So when you rub against the paper with the plastic tip (on the end of the pen), the friction generates sufficient heat to turn the ink invisible.
Therefore when using on fabric, the ink disappears with the heat of an iron. So instead of using the air erasable pens and waiting for hours for the ink to disappear, these pens are instant. The only down side is sometimes on darker fabric they can leave a faint white line. Another up-side is they can be found at any Officeworks, stationery or supermarket, so very easy to get your hands on one or two or three!
4. Clover Self-Threading Needles: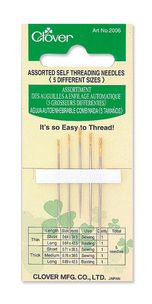 If you do a lot of your own machine quilting then these are the needles for you. They have a double hole at the head of the needle with the end hole having a very slight opening that you can push your threads through. This means when you have thread ends you need to tie off and sink back into the quilt… (and lets face it, often there are hundreds of ends to tie off)… you don't have to cut the ends to make them even then poke them through the tiny hole of the needle. You can just take your ends, push them over the end of the needle and Bobs your uncle, sink them into your quilt and you're done. No messing around.
I also find sometimes I have really sort ends where my thread has broken and it can be tricky to thread your needle when the needle is longer than the thread end. Well with these needles you just put your needle into the fabric where you want to sink the thread and push the small thread over the end of the needle and it's threaded. So easy! The only down-side with these needles is sometimes your thread breaks when pushing it over the end of the needle. So I always make sure I use the end of the thread to push through the hole and sometimes one side of the needle is better than the other so I just turn the needle around and try again.

I recently found this product and I absolutely love it, and so do my hands! They're called 'Wonder Clips' from Clover and I use them instead of pins when I sew down the binding on my quilts. Now my arms and hands don't get stabbed with pins.
They have a wide opening for holding multiple layers of fabric and they don't damage or distort the fabric. They're a great alternative to pins, especially when working with heavy weight fabrics, piles, and vinyls. The clips can also hold layered sections of sewing projects such as handle connectors to handbags and piping without distortion, and they have a 1/4″ and 1/2″ seam allowance markings on the base.
They are available in packs of 10, 50 or 100, and just released new Jumbo Wonder Clips. I find I use around 20-25 at a time.  This lets me hold down one side of my quilt while I stitch it.
Do you have any favourite quilting or sewing tools you like to use?