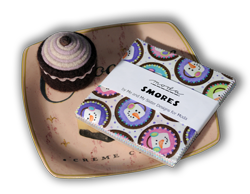 If you are new to quilting, and even if you have been quilting for some time, you are still likely to be confused by the array of terminology regarding how pre-cut fabrics are sold. You may even be confused about whether you are in a quilting shop or a cake shop!
Rest assured, these pre-cut packs are designed to save you time and money, but it doesn't hurt the manufacturer's pocket that they are great eye-candy too!
For instance, sometimes the minimum cut at a shop is 20cm (8") but your pattern may call for only small pieces, for instance if you needed to make forty different Suffolk puffs – you could be purchasing a lot of extra fabric to get the small pieces you require. Or you may be new to quilting and having trouble choosing fabrics and knowing what goes with what. Buying a pre-cut pack of all the fabrics in a range ensures that all the fabrics will match. Then you just need to purchase borders and binding to match.
The advantage of buying pre-cut fabric is the obvious saving in time. The easiest way to use the packs is just as they are i.e. strips or squares. Squares can be sewn together into a large block or joined with sashing in-between, and then all that's needed is a border.
Strippy quilts are among the easiest to make, simply sewing long strips together, then cutting across these strips to form units to make up your design.
These are great ways to take your first steps into quilting. Of course quilters being what they are have embraced this new offering from the fabric manufacturers and have come up with hundreds of ways to use these new pre-cut packs, and quilt shops have the pattern books to prove it!
So, what about the terminology? That can be really confusing.
Flat Packs:
Fat Quarter: These are by far the most common pre-cut fabric shapes. They are half a meter of fabric (in countries like Australia where the metric system is used) or half a yard (in countries like USA where the imperial system is used), cut in half across the width. So they will measure either 50cm x 55cm or 18" x 22".
There is the same amount of fabric in a fat quarter or a quarter of a meter (or quarter of a yard) of fabric, they are just a different shape, and generally they are the same price. If you want fabric for a border, you would probably buy it off the roll so you get longer strips. However, if you are cutting squares or triangles, you may find a fat quarter more useful. Many shops sell bundles of coordinated fat quarters to make your color choosing easier.
Fat Eighth: These are the equivalent of half a fat quarter cut in half. They measure approximately 25cm x 55cm or 9" x 22". Many shops sell these separately or in bundles as well.
Fat Sixteenth: These are the equivalent of a fat eighth cut in half. They measure approximately 25cm x 28cm or 9" x 11". They are less common and are sometimes sold in bundles or in gift packs.
Charm Squares: These are small squares of fabric, generally 5" – 6" square. Some shops sell their ends of rolls cut into charm squares, however the most common way to buy them is in the Charm Packs that fabric manufacturers produce. Moda Charm Packs contain a 5" square of each fabric in a range – usually approximately forty different fabrics. The number of fabrics in the Charm Pack will vary with the number of fabrics in the range. Also different manufacturers will cut their Charm Packs slightly different sizes.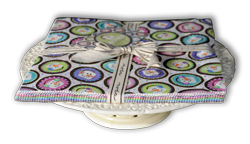 Layer Cakes: Similar to Charm Packs only larger, they contain approximately forty 10 inch squares from a range. Because they are larger they can be cut and used in more ways, and sometimes a cutting guide is included in the pack. Also made by Moda Fabrics.
Turnovers: Contain half square triangles measuring 5 7/8" (or 6" from some manufacturers) of each fabric in a range – usually approximately 40 different fabrics. It is presented as a triangular shaped flat pack. The half square triangles can easily be stitched together and used with the 5" Charm Squares. Made by Moda Fabrics.
Rolls of Fabric Strips:
Jelly Roll: These are probably the most common rolls and contain 2 ½"x 44" strips of each fabric in a range – usually approximately 40 strips and are made by Moda Fabrics.
Bali Pops: Hoffman Fabrics equivalent of the Jelly Roll containing approximately forty 2 ½" x 44" strips of fabric, usually containing batiks and hand dyed fabrics.
Sushi Rolls: Also rolls containing approximately 40 – 45 strips of fabric from a range by Lecien Fabrics; however they differ in that the strips measure 2 7/8" by 44".
Honey Bun: A Moda Fabrics product, Honey Buns contain 1 ½" x 44" strips of each fabric in a range – usually approximately 40 strips.
Dessert Roll: Contains 10 strips of coordinated fabric that are 5" x 44" wide from Moda Fabrics.
Twice the Charm: Contains forty strips from a range measuring 5 ½" x 22" from RJR Fabrics.
Combination Packs:
Sweet Roll Box: Contains two mini Honey Buns per box. Each roll contains 10 strips of coordinated fabrics from a range measuring 1 ½" x 44" from Moda Fabrics.
Jelly Cake: A pack consisting of a Layer Cake and a Jelly Roll sold together, from Moda Fabrics.
Charming Jelly Cake: A pack consisting of a Charm Pack, a Layer Cake and a Jelly Roll sold together, from Moda Fabrics.
And that is just the beginning. Many Patchwork Shops package their precut fabrics in other varied ways. One of our local patchwork shops creates some fantastic gifts of little bits of fabric rolled and packaged into a variety of tiny baskets, cassette boxes, and even cookie cutters! They are almost irresistible!
So next time you are planning a quilt, have a look at some of these options and you may be surprised how quickly you can piece a quilt.
As we experiment more with precut fabrics we will publish our ideas here for you to download.