Quilting rulers are usually acrylic, see-through and used to align the fabric and hold it firmly against the mat.
Choose quilting rulers that are marked with very thin lines.  It's much easier to align the edge of your fabric accurately under a narrow line than it is to guess where it's at under a broader marking.
Also rulers which are cut and marked by laser are more accurate than printed rulers.  As the print rolls out over the ruler you can get some distortion in the markings and the measurements may not be exact.
Mostly they come in clear acrylic with black, red, orange or pale blue markings.  My favourite rulers are fluorescent yellow acrylic and are laser cut.  The yellow makes the ruler edge very easy to see on virtually any fabric.
There are hundreds of kinds of quilting rulers.  Start with the basics and add to your collection as you discover which rulers work best for your needs.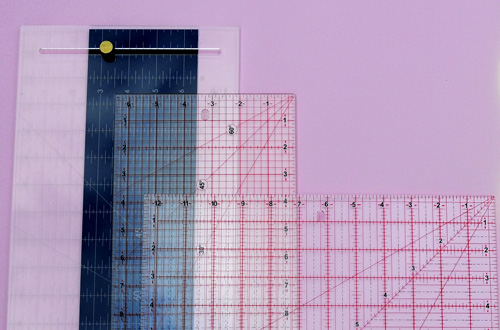 Basic Patchwork Rulers
A 6″ x 24″ patchwork ruler is a must and enables you to make nearly any type of cut.  It should be marked with 30, 45, and 60 degree angles, with dimensions in 1/8″ increments.
A 12.5″ x 12.5″ square ruler helps you make sure blocks are square, but you'll find lots of other uses for it, even simply for cutting 8 or 9 inch squares.  Many patchwork blocks are made 12 ½" square, so this ruler is great for trimming these blocks to size.
A 6" x 12" rectangular ruler is a very useful standby, great for cutting little strips and squares when your 24" ruler is too long to handle easily.
A 6.5″ x 6.5″ square ruler is perfect for aligning and cutting squares and triangle squares. Dimensions are duplicated along two adjoining sides, with a diagonal guideline running through them. Rules should be in 1/8″ increments.
Specialized Rulers
If you find you are cutting the same measurement many times you may want to invest in a ruler you can set at particular measurements.

In Australia you can purchase "Westalie" Rulers which have a guide which can be adjusted, say for 2 ½" if you were cutting lots of binding strips.

You then just slide the ruler up to the edge of fabric, press on it and cut, without the trouble of lining up all the edges.

In America there is a similar system marketed which has a clip-on guide.

There are also many specialized rulers which help you to cut setting triangles, corner triangles and half square triangles without having to do the precise calculations to determine what size to make them.
There are wave-edge rulers to cut lovely wavy edges around the borders of your quilt if you are tired of straight edges, and others still to help you make lovely curvy edge blocks.
There are specialized rulers with instructions to make the most of cutting up your Jelly Rolls, Honey Buns and Layer Cakes (and no, I'm not talking about baking).

A Quarter Inch rule (or ¼" Plus rule) is also very useful.  You can use it to mark an extra ¼" around a template for machine piecing, or draw a ¼" line inside a patchwork piece for hand piecing.

It can also be used to mark quilting lines on your quilt, and to mark diagonal lines on small squares to make half square triangles. They come in several lengths.
If all else fails, ask another quilter what their favourite rulers are – they will surely have an opinion, or go and ask in your local quilt shop.
Just remember, you don't have to buy everything all at once. A 6" x 24" rectangle or a 12 ½" x 12 ½" square should probably be your first rulers, collect any others later when you have a need for them.