Along with using a rotary cutter to cut fabric you will also need to use a special cutting mat.
These mats have a slightly textured surface to help your fabric grip and are made of material that protects the cutter blade from becoming blunt to quickly.
Many cutting mats are called "self-healing", which means that the sides of a cut sort of "squish" back together without leaving an apparent cut, so any cuts the blade leaves as it passes over the mat do not appear to be permanent, or leave any noticeable grooves.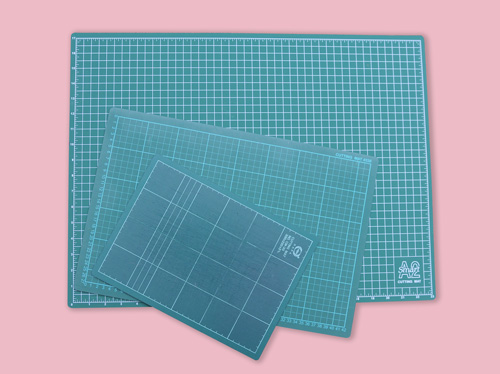 Other boards are made of a much harder material which resists cutting.  Most cutting boards have a non-glare surface, and the most common colour is green but they can also come in blue, translucent and black.
Some also have a light side and a dark side which lets you choose the side that contrasts most with your fabric.
Generally cutting mats are between 3-5mm thick and are marked with grid lines in either 'cm' or 'inches'.  Some have cm on one side and inches on the other.
Some cutting mats can also have angled guides of various degrees.  This helps as a general guide for fabric placement but is not accurate enough to measure strips of fabric to cut; you will still need a rotary cutting ruler for this.
Patchwork instructions are mostly written with measurements in inches so buying a cutting mat with 'inch' guides is essential.
Some mats are reversible with centimeters on one side and inches on the other. This gives you the best of both worlds.
Cutting mats come in all shapes and sizes. I have a few different types for different tasks.  For your work space at home it is best to buy the largest mat that you can afford that will fit in your workspace.  This makes it much easier to cut long and accurate strips of fabric.
For traveling I like to use an A3 or A2 size cutting mat, and in my quilting bag I always keep an A4 size.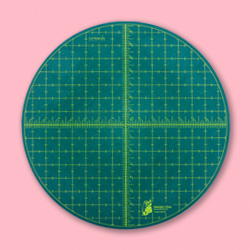 When cutting out smaller pieces of fabric it is easier to use a Rotating Cutting Mat.  This is usually a 15in circular cutting mat that has a 360° rotation, on a sealed ball bearing base.
This gives you the convenience of turning your fabric without needing to move your whole cutting mat.  It's also great for cutting round those little templates like hexagons ('Matilda's Own' sell rotating cutting mats).
Some rotating mats do have a square top that rotates.
Make sure that you take good care of your cutting mat because they warp easily.  Store them on a flat surface, out of direct sunlight and away from heat sources.
Make sure you NEVER leave it in your car on a hot day.
Once it has warped it is almost impossible to get it flat again.