'Pretty in Pink' Downloadable Pattern

$4.95

AUD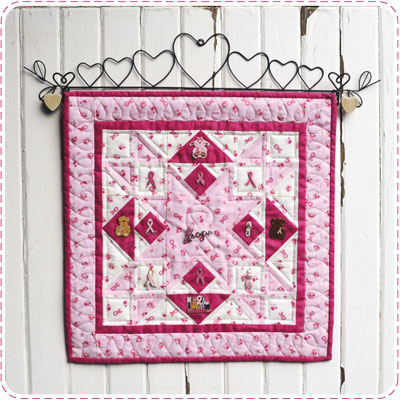 Finished Quilt Size: 15 ¾ in x 15 ¾ in
This pattern is a 15 ¾ in x 15 ¾ in Quiltlet (mini quilt) designed to display special pins or badges. Our step by step easy to follow pattern will have you finishing this cute project in a weekend!
Only using four fat quarters of fabric you will be able to dip into your stash and choose a few favorites to complete this unique project.


Breast Cancer Organizations always produce such gorgeous little Pink Ribbon pins to buy and wear during the month of October, but what do you do with them for the rest of the year?  Here's the answer… make this cute little Pin Quiltlet to display your whole collection on.
Use some lovely pink fabrics, or perhaps you could choose fabric from Quest for a Cure collection by Northcott fabrics. Northcott donate a portion of the purchase price for every meter/yard of these fabrics sold to Breast Cancer Research.
Most people know someone, a family member, friend, or workmate who have been touched by breast cancer, but thanks to Breast Cancer Organizations around the world the survival rate has increased, treatment has become generally less invasive and awareness of the disease has been hugely increased.
Pink Ribbon Day in Australia is always the fourth Monday in October.