While talking to Loel Thompson from "The Costume Collection" I just had to ask if she had any quilts, and of course she did!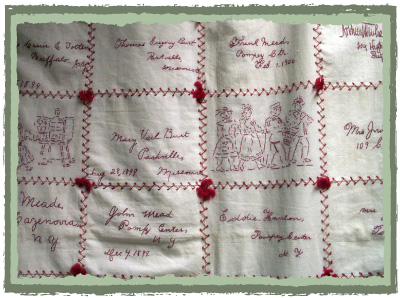 I loved the American red-work quilt from the end of the 19th Century, with many signatures, all of them dated, and interspersed with a few little outline stitch pictures of things that were current. It was all tied together with red wool. For 110 years old it was lovely. I wonder will my stitching last that long?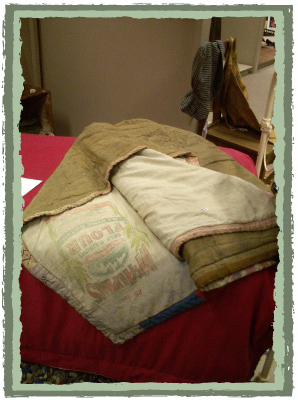 But my favourite was the 'Wagga'.  Made when times were tough with sugar bags on one side, flour bags on the other and who knows what in-between!And still beautifully stitched.
Loel said one theory about the origin of the name is that the best quality flour bags for making these primitive quilts came from a flour mill in Wagga Wagga, hence the colloquial name "wagga".
These rough quilts are a link to our past, and a tribute to our ancestors resourcefulness.
And we can spend hours, days and months collecting just the right fabric for our quilts.
We are so privileged!