I had a wonderful day on Saturday.  What could be better – a whole day sewing with no interruptions, no cooking, no cleaning, cups of tea and cookies on tap, and chatting with a group of oh so talented quilters! And a lovely drive in the country to get there.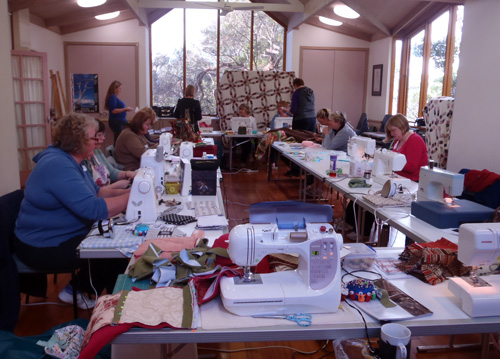 It was a day run by the girls at the Panton Hill Living and Learning Centre, and was a bit of a marathon from 10am to 10pm. People brought their own projects to work on, lunch and snacks, and we set up our machines for a whole day of uninterrupted sewing.
I managed to put together a whole raggy rug, do my Mystery Quilt homework, and sew the trimmings on a Crazy Carpet Bag for Shezy. Others patchworked, sewed children's clothing, knitted, and one cross stitched a beautiful Winnie the Pooh picture. Everyone was made very welcome.
Show and tell was fun with some lovely quilts shown:  Some tumbler block quilts made following the last get together, a gorgeous French Braid quilt, a brilliant rainbow Strippy quilt, and some beautiful Christmas bags and baskets were among the stand-outs.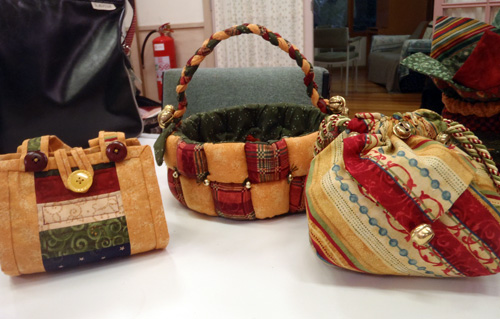 The wonderfully talented Rosalee Harper was invited to  show her beautiful Wedding Ring quilts and demonstrate how to make them.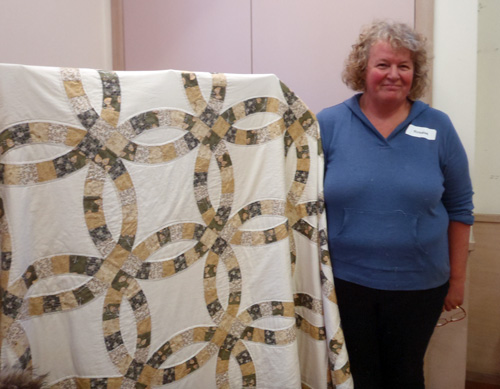 Her quilts were outstanding and her demonstration even made me think about making one … perhaps after Sylvia's Bridal Sampler …  and Shezy's Jane Austin quilt … and then there is the Dear Jane with all its fabric waiting in a grocery sack … and my quilt as you go pansy hexagons … ah well!
I'm going to have to live a long time. But then as Rosalee told us, "Quilters never grow old, they just fall to pieces…"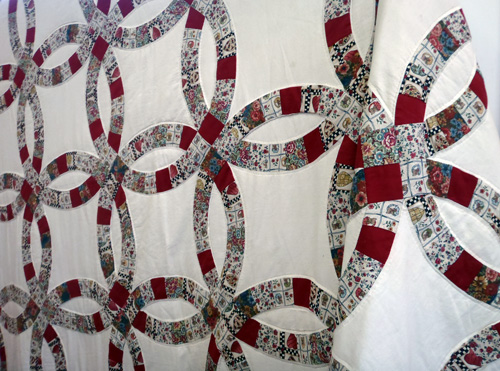 It was a super day, thoroughly enjoyable, and dinner was scrumptious with pizza and cake. Proceeds from the day went to Rosalee's favorite charity for Motor Neurone Disease research.
Thanks for everything. I'm counting the days to the next marathon girls. Remember, when life throws you scraps, make a quilt!
Happy Quilting!