I read in Margaret Rowe's book, "The Maria Challenge Quilt", how  female convicts shipped out to Australia in the early 19th century were given a small hessian bag by Elizabeth Fry.
The bag contained enough to make a patchwork quilt on their long voyage, and on arrival they could sell it to make money for other necessities, or keep it for their own use.
Inside the bag were the following: a tape measure; one ounce of pins; one hundred needles; four reels of white cotton and one each of red, blue and black; twenty four hanks of coloured thread for embroidery; a thimble a pair of scissors; spectacles if required; two pounds of patchwork pieces; and a few other oddments which may have been useful for mending corsets, stockings etc.
It started me thinking about how difficult it would be to make a quilt without a straight edge to measure against, no markers, no templates, and none of our cute little duvers that we are privileged to be able to make quilts with.
I also thought about what would be our top five most necessary modern tools for beginner quilt making, and this is what I came up with: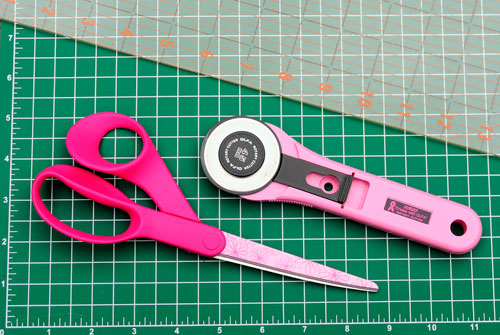 1.    Rotary Cutter:
This has totally revolutionized quilt making. It is fantastic to be able to cut 2, 4, even 8 layers of fabric all at once and perfectly straight. I think a 45mm one is the most useful size, and they come in a variety of styles with automatic retracting guards, safety catches etc.  Choose one that you feel comfortable with.  (Find out more about Rotary Cutters)
2.    Quilting Ruler:
Absolutely necessary to measure all those perfect little strips and squares without having to use a marking pencil at all. The most versatile one to purchase for a start would probably be a long 24" x 6 ½" or something similar. (Find out more about Quilting Rulers)
3.    Cutting Mat:
Necessary so we don't cut up our table tops with our wonderful rotary cutters.  Mind you it is also great for cutting paper on for scrapbooking, paper tole etc and has many other uses.  Mine stays out on the table all the time. My suggestion would be to buy one as large as you have room for; and I find an A2 size is generally large enough for a home sewer. (Find out more about Cutting Mats)
4.    Fabric Scissors:
There is nothing more frustrating than trying to cut fabric with blunt scissors, so choose a good pair of large (but not huge) fabric scissors, and sometimes if you are lucky they may come in a set with sharp pointed little embroidery scissors which you would also find many uses for.  My advice is to Keep them away from Men and Children – they do not understand the term "For Fabric Only".
5.    Sewing machine:
Our fore-mothers did all their piecing and quilting by hand and made a beautiful and remarkable job of it.  While I still love to do some hand appliqué and piecing (I find it quite relaxing and calming), I couldn't manage without my sewing machine.  It enables me to do the big jobs quickly and oh so neatly!
It's not necessary to have the latest whizz-bang machine; when I started quilting I found it was possible to buy a ¼" foot, a walking foot, and a freestyle quilting foot for my 35 year old Elna which allowed me to do pretty much everything I need to do.
However, if you are looking for a new machine, do look for one with a longer throat space which allows more room to move your quilt around.
Of course, it goes without saying we still need pins, needles, tape measure, thread etc.
But don't let the magnificent array of quilting tools and paraphernalia daunt you – you don't need much to start, and you can always add to your collection as you make more quilts along the way.
For example when you are ready to start making a hexagon quilt, that's the time to buy hexagon templates; when you are learning to do needle turn appliqué, that's when you buy some freezer paper.
So I wish you happy quilting, and that you enjoy the journey.